(Last Updated On: December 15, 2022)
It goes without saying that any camera bag or backpack can be used by any photographer, but some camera bags are designed with the fashion-conscious woman in mind, where the ability to conveniently transport all your camera equipment may be as important as remaining fashionable. Fortunately, for those people, there is a market for such bags and it has no shortage of products to choose from.
See Also:Camera bags & backpacks
Distinguishing fashionable from functional
Given that so many camera bags look alike under the hood, it begs the question as to what defines a fashionable camera bag, or woman's camera bag.
The most defining characteristic of this category of bags is the exterior design of the bag. With fashionable camera bags, one would expect to find more varied prints and colors aside from the usual black or drab greys, an increased abundance of buckles and pockets on the outside of the bag, and often, thinner straps.
What's more, the styling of the material used often extends to the interior lining.
In fact, one of the most defining features is that usually the inner compartmentalization can be removed entirely from the bag, leaving behind the shell, which can function perfectly well as a woman's handbag with the look to suit.
As an aside, the compartments can also be moved around and repurposes to suit the size of the equipment being carried.
It is important to bear in mind that fashion can sometimes come at a cost. The specifications of camera bags that are designed to be style conscious are not always as extensive as your average, rugged camera bag.
This is particularly true when we examine waterproof ratings. However, there is a reason that both types of product exist, which is that they serve different purposes.
So, without further hesitation, we've pulled together some examples to get you going. These fashionable camera bags represent some of the best on offer.
Fashionable Women's Camera Bags
Billingham 555 Camera Bag – Khaki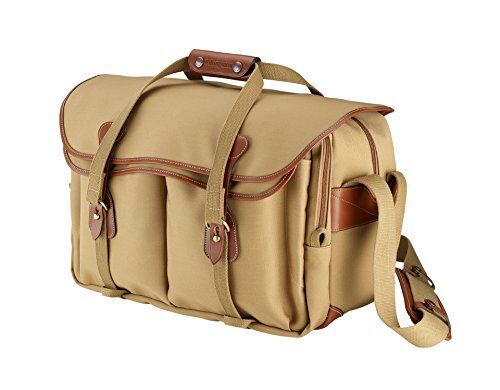 On its exterior, the Billingham 555 is crafted from soft-weave waterproof canvas, with a padded foam interior. The interior breaks away into 8.815", 9.15" and 9.18" partitions, creating a range of padded pockets in which to store a camera, associated lenses and other accessories. Though it doesn't come cheap, customer satisfaction is overwhelmingly positive and justifies the price tag, and this bag has storage space in abundance.
Fits 3 D-SLR Camera 3 Lens Kit
Soft-weave Waterproof Canvas
Closed-cell Foam Padded Interior
Superflex 8-15, 9-15 and 9-18 Partitions
Numerous Pockets
Jo Totes Gracie Camera Bag – Butterscotch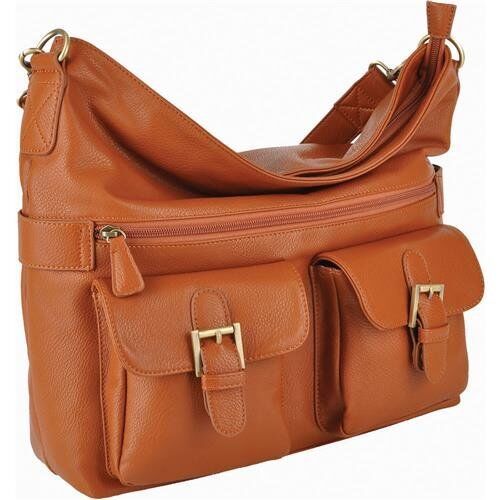 The Jo Totes Gracie camera bag is far cheaper than the Billingham 555 for lower budget shoppers, but it still retains the same aesthetically pleasing design, featuring an abundance of pockets that are styled closer to that of a handbag than a professional camera bag.
These make the perfect pouches in which to transport SD cards, camera straps or spare lithium batteries. The straps on this bag come with additional padding to help support the weight of a DSLR and associated equipment.
Includes: Jo Totes Gracie Camera Bag – Shoulder Strap – Cross Body Strap – Shoulder Pad – Jo Totes 1 Year Warranty
Exterior material: Soft, top quality man-made leather in butterscotch
Interior fabric: Powder blue silky cotton
Protective foam sewn into the lining of all four sides and bottom of the bag, with extra padding on the main two thirds of the bag
Four protective metal feet
Points to consider before making a purchase
Before taking the plunge and purchasing a fashionable women's camera bag, there are some questions to ask yourself regarding its intended use, in order to ensure that you get a product that suits your lifestyle.
See Also: How to take fireworks photos at night
Firstly, decide whether the purpose for buying the camera bag is to have a means of carrying photography equipment that is simply easier to style, or whether it is for the benefit of being able to use the same bag as a purse.
If the latter is true, then you're going to want to carefully study the specifications of each product, identifying a bag from which the inner compartments can be removed; not all camera bags offer this functionality.
Related Topic: G-raphy camera backpack with rain cover review
Next, it's important to look at the straps, paying particular attention to previous customer feedback. Camera bags that focus on aesthetics can often make sacrifices in the design of the shoulder straps.
Related Topic: 5 hiking backpacks for Photographers
For a handbag, this wouldn't be such an issue, but for a camera bag that's carrying around several kilograms of equipment, it can be a huge factor. With thin, flimsy or unpadded camera straps, you could soon find yourself suffering from neck or shoulder strain.
Finally, assess what other storage needs you may have while traveling with your camera bag. Packing your usual belongings into the same case as your camera can be a bad idea. That bunch of keys, pair of sunglasses or money purse can soon scratch or damage your lenses if stored within the same bag.
Therefore, consider purchasing a bag that has separate pouches for smaller items that could damage your camera and lenses, or carry a smaller bag, separately.
Conclusion
Fashionable camera bags are the perfect choice for the style-conscious woman who favors a bag that is not only functional, but one that can be accessorized as part of an entire look, without sacrificing on the excessive carrying capacity required for a professional photographer.
Related Topic: Best dry bag for kayaking
The differences between the two types of camera bag are mostly aesthetic and they do not vary all that widely, so preference can be given to the product that is more suited to the intended look.
The examples given above are just a small sample of the women's camera bags available on the high street or online, but they are a good starting point for anyone who wants a quality product without having to shop around.
See Also: Camera bags that look like a purse
Though the appearance may be different to a traditional camera bag, the quality of build does not typically suffer as a result. What's more, you're getting the functionality of two different types of bag packed into one.