(Last Updated On: December 15, 2022)
The best dry bad for kayaking are outlined in this article. Dry bags are flexible and can provide storage space for personal belongings that would be susceptible to water damage.
As a watertight container, they are designed for use in water sports, including canoeing, kayaking and a whole range of other activities.
Thus, they are the perfect storage for items such as electronic devices, as well as spare sets of clothing to change into after the activity, towels, and sleeping bags or duvets.
See Also:Camera Backpacks & Bags
Best Dry Bags for Kayaking 2021
Image
Details
Prime
Check Price on Amazon
Earth Pak -Waterproof Dry Bag - Roll Top Dry Compression Sack Keeps Gear Dry for Kayaking, Beach, Rafting, Boating, Hiking, Camping and Fishing with Waterproof Phone Case

Prime

Eligible

Check Price on Amazon
Unigear Dry Bag Waterproof, Floating and Lightweight Bags for Kayaking, Boating, Fishing, Swimming and Camping with Waterproof Phone Case, 2L/5L/10L/20L/30L/40L

Prime

Eligible

Check Price on Amazon
KastKing Dry Bag Waterproof Roll Top Sack for Beach, Hiking, Kayak, Fishing, Camping, and Other Outdoor Activities

Prime

Eligible

Check Price on Amazon
Ultra Dry 10L Waterproof Bag and Phone Dry Bag with Adjustable Shoulder Strap

Prime

Eligible

Check Price on Amazon
Sea to Summit Lightweight Dry Sack,Green,Medium-8-Liter

Prime

Eligible

Check Price on Amazon
Design and specification of dry bags
Though the price of a dry bag will vary from brand to brand, depending upon factors such as the material used in the design, and the size, they are quite inexpensive items to purchase. Some people think that they can avoid the need for a dry bag by being careful to stay within the confines of their kayak.
However, one must consider all of the possibilities that could lead to water damage of personal possessions, including unexpected splashes, waves or bursts of rain. These bags will provide protection against water droplets from all sources, as well as dust, snow and other hostile weather elements.
Though different materials may be favored by different manufacturers, dry bags are typically constructed from plastic or plastic-coated materials, fabric that has been waterproofed, or plastic film material. The design is such that a watertight seal is formed when the bag is sealed, preventing the introduction of any moisture to the items contained inside.
Dry bags range in size so that they can accommodate for a range of people and purposes, from the camper who wants a safe space in which to store his smartphone whilst camping, through to the kayaker who wants to take everything but the kitchen sink into the kayak with them.
Size and capacity is measured in liters, ranging from 10L through to 40L on the most common bags, though higher capacity storage is available; one of the products listed below, for example, comes in a 65L capacity. An important thing to remember is that the more the bag can hold, the heavier it will be to carry.
1. KastKing Waterproof Roll Top Dry Bag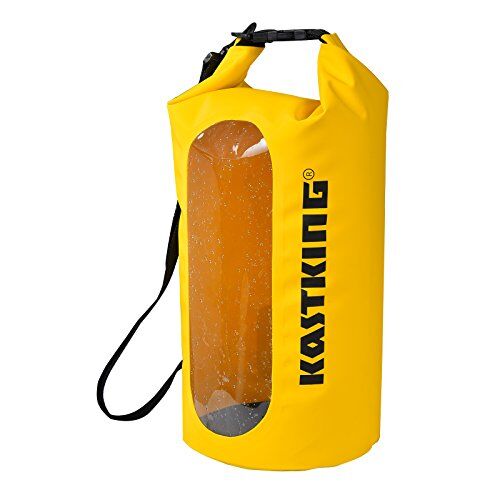 KastKing Dry Bag Waterproof Roll Top Sack for Beach, Hiking, Kayak, Fishing, Camping, and Other Outdoor Activities
The KastKing dry bag is ready for anything the elements can throw at it, being impervious to snow, sand, dust and water—it's pretty much nature proof. With a water-tight double overlap roll top, the KastKing has excellent waterproof properties, while incorporating a clear see-through window that allows clear visibility of the dry items contained within, and makes it easy to find items in the bag without the need to pull everything out.
The KastKing dry bag is manufactured from 100% waterproof 500D PVC material, with welded seams, which are typically stronger than sewn seams. There's also another layer of PVC in the inner lining, offering additional protection against moisture or dirt. Based on the thought that has gone into the design, it's no surprise that the bag touts itself as having "best-in-class" waterproof properties.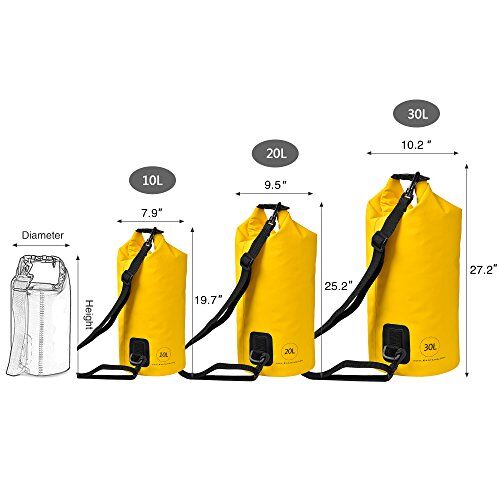 KastKing Dry Bag Waterproof Roll Top Sack for Beach, Hiking, Kayak, Fishing, Camping, and Other Outdoor Activities
Pros:
Includes a removable shoulder strap for transporting
When sealed with excess air inside, the KastKing dry bag will float
The transparent window provides an inside view and makes locating items simple
Cons:
Comes in only 4 colors, which is fewer than other, similar models
Waterproof seal requires rolling the top over 3 times, reducing storage space
Left in direct sunlight, the interior can become hot due to the PVC window
Summary
The KastKing dry bag boasts a "best-in-class" waterproof performance, though getting the hang of the sealing process can be tricky; any mistakes, and it's not necessarily going to keep out every droplet. Still, the bag is sturdy and the build is of a high quality.
What's more, the transparent PVC window is a great little feature, which makes it simple to locate that small item at the bottom of a pile of clothes.
Just be careful not to leave the window in direct view of sunlight when the weather is extremely hot, as this can begin to elevate temperatures within the bag; this isn't great for electronics.
2. Ultra-Dry Premium Waterproof Bag with Phone Dry Bag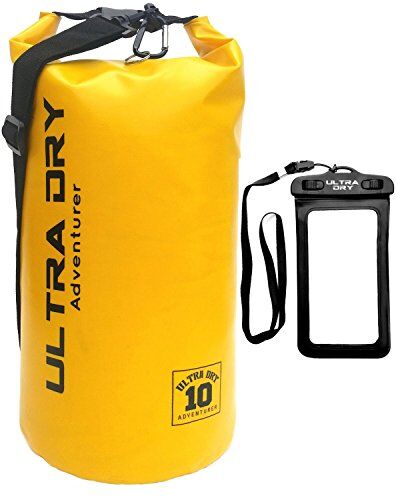 Ultra Dry Premium 20L Waterproof Bag, Sack with phone dry bag and Long Adjustable Shoulder Strap Included (yellow, 20 L)
The Ultra-Dry Waterproof bag is a tough contender when it comes to keeping items dry and safe. Resistant to scratches and punctures that can render a waterproof seal useless, this dry bag is designed from Pure Grade Y7.5mm thick 500D Polymer. The bag is also available in four colors: hot pink, blue, yellow and black.
Though many dry bags on the market come with shoulder straps, the Ultra-Dry Waterproof bag comes with tote straps that allow it to be worn on the back like a backpack, as opposed to simply slung over the shoulders.
Not only does this free up capacity to carry other equipment or bags, but it also evens out the load being carried, rather than placing it all onto one shoulder.
Ultra Dry Premium 20L Waterproof Bag, Sack with phone dry bag and Long Adjustable Shoulder Strap Included (yellow, 20 L)
Pros:
Can be worn like a backpack for easy transport
Bright colors such as pink and yellow make the bag difficult to lose
Includes a miniature bag designed specifically to protect a smartphone
Shoulder straps are extra-long and are thus suitable for people of all sizes
Cons:
Only comes in 2 capacities: 10L and 20L
Phone cannot easily be used while stored within the miniature dry bag
The phone bag, as an added extra, doesn't quite match the quality of the dry bag
Only one color phone case is available with the Ultra-Dry bag
Summary
When kayaking, it's not always simple to traverse the terrain between the car and the activity starting point. Whether hiking down sand dunes or miles upriver, the fact that this bag can be worn like a rucksack means that it won't be difficult to carry along with the usual kit.
Though the phone case that's included isn't quite to the same specification as the dry bag itself, it is a free added extra and it does the job well enough to keep a phone dry and secure. The downside to the Ultra-Dry Waterproof bag is that it only comes in two different capacities, though as far as drawbacks go, it's not the worst problem to have.
3. Earth Pak Waterproof Dry Bag Compression Sack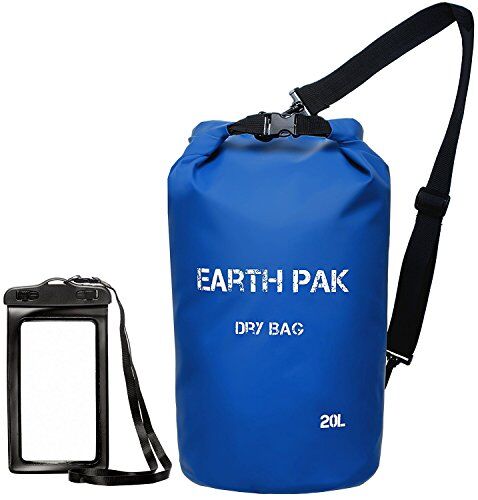 Earth Pak Waterproof Dry Bag – Roll Top Dry Compression Sack Keeps Gear Dry for Kayaking, Beach, Rafting, Boating, Hiking, Camping and Fishing with Waterproof Phone Case
The Earth Pak Dry Bag comes in four different sizes: 10L, 20L, 30L and 40L. The previous two bags come with single shoulder straps, whereas the latter two provide the wearer with backpack straps. A great addition is the inclusion of a sternum strap on the two larger models, which helps to spread the load across the torso, as well as securing the equipment more firmly during long hikes.
Included in the Earth Pak's specifications are hardened D-rings, which allow the bag to be connected to the side of a kayak. This is a useful feature that'll help to secure the bag during forays over rough waters or rapids.
The design of the Earth Pak Waterproof Dry Bag, in terms of the materials used and the shape, means that it can also be used as a travel pillow when it is packed with soft materials such as clothing or blankets. No more need to carry a pillow around when camping.
Earth Pak Waterproof Dry Bag – Roll Top Dry Compression Sack Keeps Gear Dry for Kayaking, Beach, Rafting, Boating, Hiking, Camping and Fishing with Waterproof Phone Case. Available Sizes
Pros:
Can be secured to a raft, boat or kayak
Choose from 4 sizes and 6 different colors
Comes with additional straps on the larger models for carrying comfort
Can be used like a travel pillow when packed with soft materials
Cons:
The included phone case doesn't fit some of the newer, larger models
Requires a very firm roll and seal to maintain waterproofness
Material susceptible to tearing on rocks, but not if used carefully
Backpack straps on the larger models could be longer
Summary
The Earth Pak Waterproof Dry Bag comes with a free phone dry case is something that several manufacturers appear to be doing with their dry bags.
Ultimately, this phone case struggles to carry some of the newer smartphones or tablets with displays beyond 6.0", but for most people this won't have become a problem yet.
Though it's recommended not to allow submersion of the phone case beneath water, heavy splashes will no longer be a concern.
Not only does this bag make it very easy to carry all the equipment necessary for a kayaking or camping trip, it also manages to reduce the load by doubling as a travel pillow.
Couple this with the shoulder and sternum straps, and it can be difficult for the wearer to even remember that they're carrying a heavy load.
4. Unigear Floating Dry Gear Bag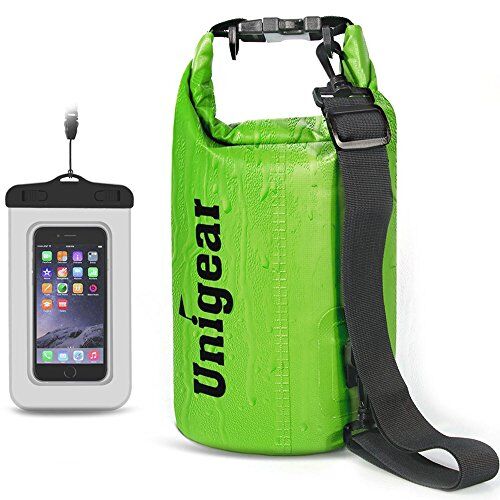 Unigear Dry Bag Sack, Waterproof Floating Dry Gear Bags for Boating, Kayaking, Fishing, Rafting, Swimming, Camping and Snowboarding (Yellow, 5L)
One of the only dry bags on this list to offer such extensive shoulder padding on the carry straps, the Unigear Floating Dry Bag is comfortable and secure when worn on the back (larger models) and just as comfortable if worn slung over the shoulder (smaller models).
Whereas some PVC bags can be more susceptible to punctures and abrasions, the Unigear Floating Dry Bag is constructed from tough nylon, offering it greater protection against sharp rocks and branches.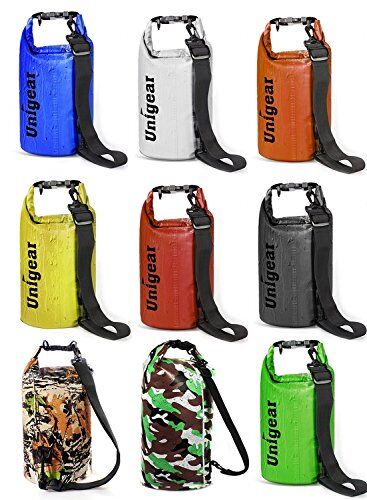 Pros:
Roll-down design offers burst resistance when air-filled
Padding on the removable shoulder straps reduces possibility of discomfort
The phone case is touch friendly, allowing interaction through the case
All the available colors are a bright hue, making them easy to spot from a distance
The shoulder strap provided is longer than most and can be adjusted or removed
Cons:
Shoulder straps are only available for the larger capacity models
Prolonged submersion can penetrate the seal, though this is common with any bag
Summary
The Unigear Floating Dry Bag provides great protection for personal belongings, without the need for fiddly-locking mechanisms. Through a process of rolling the rim of the bag over several times and snapping it into place, the waterproof seal is formed.
Though prolonged submersion may affect the bag's ability to repel water, this is typically the case with all dry bags and it's not an actual drawback as such.
5. Sea to Summit Big River Dry Bag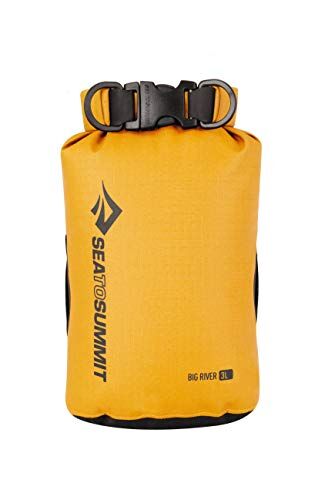 The Sea to Summit Big River Dry Bag is built a little differently than the others, being constructed from Non-PVC nylon and TPU laminated fabric. Of the products that we've chosen for this list, it has the greatest range of colors.
Though this bag doesn't come with any form of shoulder or carry straps, it does have low profile Hypalon lash loops built into the sides of the bag. These can be used for secure stacking of the bag when kayaking, while its oval-shaped design helps reduce the risk of having the bag roll around when traversing rugged waters.
Pros:
A range of 7 colors is available
A waterproof rating of 10,000 mm
Non-PVC for the environment-conscious
Material is resistant to scuffing and punctures
Can attach to boats, kayaks and even bicycles
Comes in a huge range of sizes, from the smaller 3L to the whopping 65L
Designed with functionality in mind; oval shape prevents movement when stored
Cons:
May need to buy the next size larger than the required size
The larger capacity models can be quite pricey when compared to other brands
Unlike similar bags on the market, this one comes with no carry straps
Can be difficult to achieve more than 2 rolls on the seal with this nylon material
Summary
Where the Sea to Summit Big River dry bag excels is in its design, using high-strength nylon to reinforce the bags against nicks and scratches that would compromise the waterproof design.
However, what it gains in aesthetics in what it loses in functionality; the bag does not include carrying straps, which can make it a little more annoying to carry around.
Related Topic: Waterproof dry bags for phones
With that in mind, it is still the only dry bag on our list that has such a large range of sizes, reaching up to 65L capacity, more than enough to keep the whole family going on a kayaking adventure.
It also has Hypalon lash loops embedded along the side of the bag, allowing it to be secured to vessels; this does go some way to making up for the lack of carrying straps, and in theory could be used to secure the dry bag to a backpack.
Conclusion
When it comes to shopping for the best dry bags for kayaks on the market, it can be difficult to tell them apart.
The main differences lie within the design, such as the material used, the mechanism of forming the seal and locking the bag, and the inclusion of any shoulder or backpack straps.
Thus, choosing an appropriate bag is more a matter of personal preference and taste as opposed to picking and choosing from functionality.
The general rule of thumb with a dry bag is to avoid prolonged submersion in deep bodies of water, while ensuring that the rim of the bag is rolled as tightly as possible when packing; this will ensure that no water can reach the personal possessions stored within.
See Also: Best hands-free camera harness
As long as these guidelines are follows when packing for a kayaking trip, then there's no reason that any equipment should suffer damage from unwanted exposure to the elements.