(Last Updated On: December 15, 2022)
A camera harness is a piece of equipment that is typically secured across the chest and shoulders in the same style as a backpack or rucksack. On a basic level, it secures the photographer's camera against their chest using a locking mechanism that varies in design from product to product.
The intention is to provide an easy and accessible means of accessing the camera, while preventing movement of the device in line with the wearer's body. Unlike a neck strap, a camera mounted by harness has far less range of motion.
See Also:Camera Backpack Review
When it comes to carrying around a large, professional-grade camera, care should always be taken to secure it to the body in some way. An unsecured camera invites many risks, including the potential for damage, loss or theft.
There are numerous options available for carrying a camera around, including straps that can be worn around the neck, or camera harnesses that are worn around the torso. The latter type is what we'll examine below.
Best Hands-free Camera Harness 2021
Image
Details
Prime
Check Price on Amazon

Top

Cotton Carrier 635RTL Camera Vest for 1 Camera, Black

Prime

Eligible

Check Price on Amazon
Nicama Camera Strap Carrier Chest Harness Vest with Mounting Hubs & Backup Safety Straps for Hiking Canon 6D 5D2 5D3 Nikon D800 D810 Sony A7S A7R A7S2 Sigma Olympus DSLR Cameras

Prime

Eligible

Check Price on Amazon
Altura Photo Rapid Fire Camera Neck Strap w/Quick Release and Safety Tether

Prime

Eligible

Check Price on Amazon
Keyhole Hands-Free Camera Strap Harness (Red)

Prime

Check Price on Amazon
USA Gear DSLR Camera Strap Chest Harness with Quick Release Buckles, Black Neoprene Pattern and Accessory Pockets - Compatible with Canon, Nikon, Sony and More Point and Shoot, Mirrorless Cameras

Prime

Eligible

Check Price on Amazon
1. Cotton Carrier 635RTL Camera Vest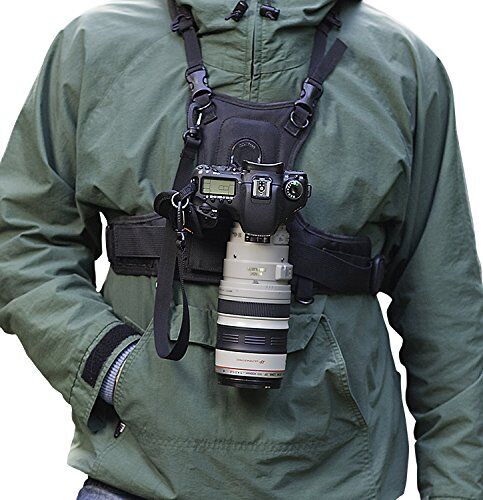 The Cotton Carrier 635RTL camera harness comes in at the upper end of the budget, typically costing a fair bit more than many of the entry-level harnesses. A patented twist and lock system makes the attachment and detachment of a camera fuss-free, so that the wearer will never miss a time-sensitive shot.
Worn around the torso, with straps extending fully around the back and over the shoulders, the harness features an equipment storage pouch beneath the locking system, so that there's room for additional batteries or other compact items that the photographer may need to have close to hand.
The harness weighs in at 1.8 lbs., so it won't add a great deal of weight when carrying around the attached camera, and the benefits far outweigh the drawback of a little additional carry weight. Since this harness is quite back-heavy, it should at least balance out once the camera has been factored in.
Pros:
Lightweight
Includes a tripod plate component
Some packages include a rain cover
Patented locking system guarantees an original design
Adjustable straps that cater for variations in clothing thickness
Constructed from strong and durable materials; built to last
Features an equipment pouch that is readily accessible beneath the mount
Cons:
May not be well suited to those with a very small frame
Lots of material means hot weather is less comfortable
Large price difference between this model and cheaper alternatives
Equipment pouch won't typically have space for bulky lenses
Can be tricky to get used to the twist locking mechanism
Summary
If price isn't really a limitation, then the Cotton Carrier harness is an excellent choice for any photographer who needs to protect their camera against rigorous body movements or keep their hands free for other activities.
A patented locking mechanism means there's no need to worry about buckles and straps when it comes to securing the camera, or detaching it to capture those important moments—simply, unlock and shoot.
The Cotton Carrier also goes one step further than a great deal of other camera harnesses by providing a small pouch.
Though the capacity is limited, it's a great means of storing small essentials, such as batteries or SD cards, and the physical location beneath the camera on the stomach means that it is very easy to access on the move.
2. Keyhole Hands Free Camera Harness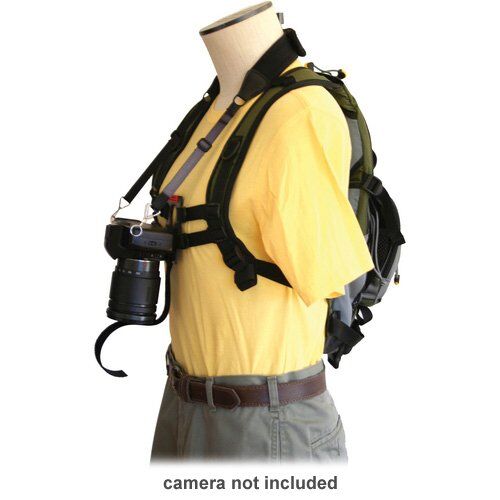 The Keyhole Hands Free Camera Harness is designed to integrate with your existing backpack or rucksack by connecting to the shoulder straps.
This has one major benefit: Unlike many other harnesses, the weight of the camera and the harness itself is transferred into the straps of the backpack, which are typically stronger and more durable, placing the load on the photographer's shoulders as opposed to placing strain on the neck.
Access to the camera, once secured, is incredibly quick and easy; it's simple a case of sliding the camera unit from the keyhole lock, which can be tightened using the supplied key.
What's more, the built-in security straps maintain a hold on the camera, in case it was to slip from the Keyhole hands free camera harness as a result of not being properly secured.
Owing to the minimalistic design and lack of any extensive padding on the chest or back straps, this harness is much lighter than the other choices we have highlighted, and as such it is well suited to those who find it more difficult to carry around heavy loads. However, this means that it can't be worn on its own without a backpack to connect to.
Pros:
Easier to keep cool in hot environments
Lightweight design reduces the carry load
Can be worn with an existing, owned backpack
Quick access to the camera for pointing and shooting
Cons:
No space for storage of batteries and SD cards
Certain backpacks may be incompatible with the keyhole harness straps
Must be taken off at the same time as the backpack that it is attached to
Summary
The Keyhole hands free camera harness is an ideal choice for those who already have a preferred camera setup, with an existing backpack, but who do not want the fuss of a full torso harness.
It is also a good choice for anyone with back problems, as it helps reduce the load placed on the back and neck when compared to basic neck straps or more heavy, complex harnesses.
Whereas many camera harnesses have thick padding around the back and chest, the Keyhole harness keeps it simple so that there's space to integrate with a backpack, regardless of however bulky that backpack is.
This does mean that there's a need to remove both the harness and the backpack simultaneously when unloading your equipment, but for those constantly on the move, this is unlikely to become too much of a problem. It's also far easier to fold up and store when taken off, as it takes up less space.
3. Nicama Camera Strap Carrier Chest Harness Vest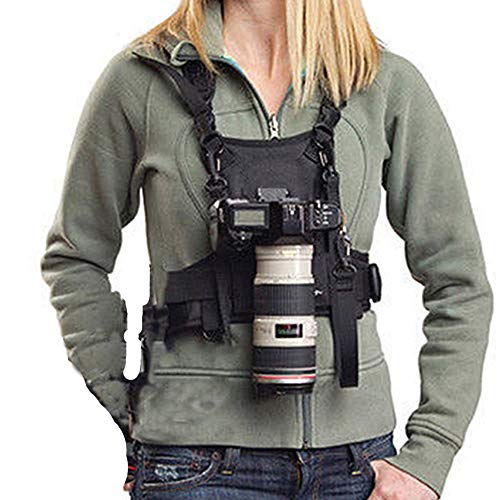 One drawback to using camera neck straps that has not already been mentioned is the strain that they can place on the neck and shoulders.
Though a professional camera may not feel particularly weighty, the effects of a prolonged weight hanging around the neck can gradually present themselves in the form of neck strain, particularly on longer photo shoots, such as at weddings.
This is another reason to choose a harness, and the Nicama Camera Strap Carrier Chest Harness Vest is specially designed to provide support for the neck and shoulders, with extra-thick padding and support around the upper back and shoulders. This provides control and a comfortable fit for those lengthy shooting sessions.
Another notable point for this harness is the inclusion of backup straps that secure the camera to a second point, in addition to the basic locking mechanism.
Though unlikely, if the locking mechanism did happen to fail or was not secured properly, the straps would prevent a costly accident in case the camera were to fall; the straps would keep the camera securely attached to the harness.
Lastly, it's worth mentioning that the Nicama Camera Strap Carrier Chest Harness Vest comes with a side holster. The holster has capacity to hold a second camera, in case the photographer is somebody who likes to run with a dual setup.
Switching between the two cameras is as simple as swapping between the two. Alternatively, the pouch could even be used to store batteries, SD cards and lens covers, further reducing the need to carry equipment by hand.
Pros:
One size fits all
This harness isn't going to break the bank
Capable of holding 2 cameras
Backup camera straps provide contingency in case of locking mechanism failure
A locking key is provided to adjust the locking mechanism to the preferred tightness
Cons:
Unlike the Cotton Carrier, this harness doesn't come with a tripod plate
The back strap is secured by Velcro as opposed to a more secure buckle
When using 2 cameras, the harness feels very heavy and can pull down or to the side
It's unlikely that the holster will fit any lenses, even if not carrying a second camera
Summary
The Nicama Camera Strap Carrier Chest Harness Vest is cheaper than the Cotton Carrier by a large degree, though by no means worse in quality.
If safety is a concern, then the backup security straps are sure to provide some peace of mind, as they guard against the prospect of not having secured the locking mechanism properly.
Although the back straps on the reverse are secured by Velcro, this doesn't mean that they won't be reliable, and there's always the possibility of upgrading to a buckle.
The inclusion of a holster for a second camera is a great feature for those who like to carry a spare or a different camera and lens setup. Though the holster isn't large enough to fit most lenses for those only using 1 camera, it could still be used to store other, smaller accessories.
Conclusion
When buying a camera harness, consideration should be given to several factors, as mentioned above. This will ensure that the harness purchased is fit for purpose and suits the photographer well, whilst meeting their basic needs.
Any one of these 3 camera carrying harnesses would be ideal for the photographer who spends their time partaking in sports while shooting, or who engages in prolonged shoots for weddings, journalism or other events.
Personal choice will dictate which is most suitable, but whether the preference is for something more padded that offers neck and shoulder support, or a more basic harness such as the Keyhole hands free camera harness, the market offers something for everyone.
Choosing the Best Hands-free Camera Harness instead of a strap
Although camera straps worn around the neck can be convenient and suited to basic camera use, they do not typically provide a great deal of support during more involved activities, and as such, they are typically the choice of tourists or casual hobbyists.
For example, during outdoor hikes or climbing, or more strenuous activities, camera straps tend to result in the camera swinging around or hanging; this can lead to impact damage if the unit knocks against hard objects.
Therefore, it's always better to consider a camera harness if the intention is to be moving around a great deal whilst using the camera, or requiring one's hands to be kept free for activities.
The benefits of securing a camera
There are many reasons that one might want to consider using a hands-free camera harness. First and foremost, professional cameras don't come cheap and breakages can be expensive to rectify.
Thus, it makes sense to want to protect them against accidental damage. A camera harness provides durable support for a range of cameras, minimizing the risk of breakage through careless handling or accidents.
Secondly, using a camera harness frees up the photographer's hands for a range of other tasks.
If shooting for a wedding or special event, the photographer will be free to navigate and set up a scene and direct guests into position, without worrying about handling the camera at the same time as any other set pieces.
Distraction can lead to accidents, which can again lead to damage, but the risk is minimized with the use of a harness that fixes the camera in place.
Finally, when using a camera, every photographer should and likely will be familiar with the risk of theft. Carrying around such an expensive bit of kit in plain sight of opportunists is a risk, but it is one that can be mitigated through the use of a camera harness.
Most harnesses use either durable straps and locks, or complex mechanical locking systems. When coupled with the fact that the camera is secured immediately to the front of the torso, it becomes a deterrent to any would-be thief.
What to look for when buying a harness
There are several considerations to bear in mind when choosing a camera harness, in order to ensure that the final product purchased is fit for purpose and for the intended wearer. With the below list, anybody should be able to make an informed decision about which harness to buy.
Consider the added weight of the harness
Cameras can vary in weight, though camera harnesses can, too. If using a heavy camera and lens setup, then it may be worth purchasing one of the lighter camera harnesses on the market, so as not to add excess weight to the load being carried.
This will make it far easier to sustain the equipment during long shoots or sporting expeditions, without putting health at risk.
Ensure that the fit will be comfortable
Bodies are built differently and as such the fit of a camera harness will vary from person to person. Though some harnesses promise a "one size fits all" approach, others may not. This may be an issue for those with a larger frame, or a larger chest area, for example.
Thus, always take into consideration the fine print and description of the product, ensuring that the fit will be suitable.
Consider any health issues the wearer may have
The design of a camera harness can directly impact the part of the body on which the load is placed. Sufferers of neck conditions should avoid harnesses that place most of the load on this area of the body.
Related Topic: Lowepro Protactic 350AW Review
Similarly, those with back problems should avoid purchasing harnesses that place strain on the back. This information can usually be discerned by reading reviews, reading product descriptions, and examining product images.
Decide whether room for equipment storage is of importance
When it comes to camera harnesses, it can often feel like storage is generally an afterthought in the design process. Many harnesses will not include any storage to speak of.
However, for photographers who like to travel light without a backpack, it is worth doing a little extra research to locate a harness with a storage pouch, so that the camera will never be short of battery power or room for other accessories such as straps and memory cards.
Related Topic: Best dry bag for kayaking
Consider the materials and fasteners
There are two reasons to consider the materials that are used to construct the harness and the quality of the fasteners. Firstly, many photographers spend a large amount of time moving around in hot environments, be it shooting outdoors or within a confined space.
With the wrong materials, chafing and sweating can quickly become a problem. Care should be taken to look for something minimalistic and breathable, which will help to avoid this issue.
Secondly, the quality of the fasteners, or security straps, is of high importance, as they are the lifeline that protects the camera from a sudden fall. These should be built from high quality and durable materials.
Even with all the above information, navigating the market to choose a suitable camera harness can be tricky, which is why we've compiled a quick list of the top three choices when it comes to quality and value for money.