(Last Updated On: December 15, 2022)
If you are a professional photographer, you will need a backpack that will protect your expensive equipment from being scratched, dented, or destroyed.
Sure, you could use a normal backpack and go through an extra effort to put in soft material between each of your lenses and cameras. However, it is much safer and easier to simply use a backpack specially built for protecting these things.
See Also:Best Camera Backpacks
One of the best camera backpacks is the Lowepro ProTactic 350 AW. Although this isn't the biggest and best backpack produced by Lowepro, some photographers only need to fit 6 lenses in a 13" backpack, making this their top option. Here are some key things to know about this product.
Lowepro ProTactic 350 AW Backpack 2021
Image
Title
Prime
Check Price
Lowepro ProTactic BP 450 AW II Camera & Laptop Backpack, 25L, Black

Prime

Eligible

Check Price on Amazon

Top

Lowepro ProTactic 350 AW II Black Pro Modular Backpack with All Weather Cover for Laptop Up to 13 Inch, Tablet, Canon/Sony Alpha/Nikon DSLR, Mirrorless CSC and DJI Mavic Drones LP37176-PWW

Prime

Eligible

Check Price on Amazon
Lowepro Photo Classic BP 300 AW - A High-Capacity DSLR Camera Backpack

Prime

Eligible

Check Price on Amazon
Lowepro Photo Sport 300 AW II - An Outdoor Sport Backpack for a DSLR Camera or the DJI Mavic Pro/Mavic Pro Platinum

Prime

Eligible

Check Price on Amazon
Lowepro Fastpack BP 250 AW II - A Travel-Ready Backpack for DSLR and 15" Laptop and Tablet

Prime

Eligible

Check Price on Amazon
Unless you want to use a backpack with one or two large open spaces, you will enjoy having dividers which are padded.
These dividers are capable of separating your lenses from each other. Additionally, you can attach two cameras onto two of the lenses and store them safely and securely.
Each of these dividers is safely secured with Velcro and are adjustable so that you can pick and choose how you want each section set up.
This is great for people who have lenses that are of multiple sizes and also want to customize where they store their camera.
Since you only have 6 sections, it is best that you leave two cameras connected to their lenses to best use the provided space.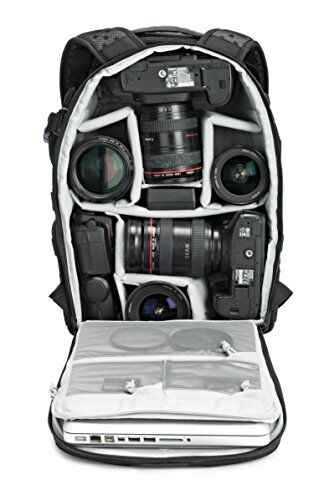 ProTactic 350 AW Camera Backpack From Lowepro – Professional Protection For All Your Equipment
Nothing is scarier to a person with a backpack full of camera parts and a laptop than rain or snow.
Thankfully, in these sorts of circumstances, you won't have to worry too much. For starters, the backpack is designed with a nylon material which can be resistant to water.
However, the nylon material isn't the main reason that this backpack is safe for all weather conditions.
One feature which is especially nice about this backpack is that it comes equipped with a cover that can add extra protection to your backpack if the weather ever starts to go south.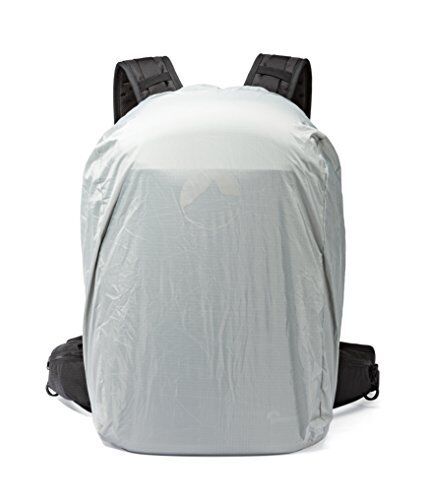 ProTactic 350 AW Camera Backpack Rain Cover
Related Topic:Lowepro 250 AW Camera Backpack Review
It's no secret that cameras and electronics can add up some serious pounds to a backpack. If you purchase a good camera backpack, this problem will be alleviated.
In this model, there are padded straps, ventilation with holes for the back, and extra straps to ensure that your straps stay on your shoulders.
The security straps that stretch across horizontally serve two purposes. Firstly, they allow you to shift your weight around while you are carrying the backpack around so that you use different muscles while hauling around your equipment. Secondly, it makes the pack harder for thieves to snatch if they approach you and try to steal your backpack.
However, in any case, the main feature of the straps and ventilation is that they are great at helping you carry the weight. They also come equipped with two hip pockets for storing items that need to be grabbed on the go.
Related Topic: Waterproof vs Water-resistant Backpacks
Along with the main interior compartment which is used for housing your camera parts and lenses, there are also plenty of pockets that can be opened externally without showing what is inside the backpack.
With two pockets on each side of the backpack and two hip pockets located on the backpack's straps, there is a total of 6 exterior pockets that service to provide plenty of extra storage space for things like your wallet, keys, and so on.
If the extra pocket space is not enough, you will still have plenty of extra space for carrying things like a tripod and water bottle. After all, both of these things are necessary for the life of a professional photographer. If you need a little bit more pocket space or straps for holding extra equipment, you can still safely consider this backpack.
See Also: Vivitar camera backpack review
Since this backpack also comes with a tripod cup, two cinch straps, a water bottle pouch, and an accessory case, you have 5 extra accessories for adding some utility to your backpack. Assuming that you only have 6 lenses, a 13" laptop and a tripod or two, this backpack shouldn't need any more accessories.
This backpack is great for any professional photographer who has equipment that fits the specifications. If you envision upgrading your setup to something bigger and more elaborate, then you might consider looking at the Loweopro ProTactic 450 AW, which offers a little more space.
However, if you want a small and slimmer design, and this size is perfect for you, then there is no need to invest more money in a bigger backpack.
Since many photographers won't use more space than what is provided here, this is one of the best camera backpacks for protecting your investments. Here are some of the good things and bad things about this product that you should be aware of.
Pros:
6 adjustable and padded camera and lens holders
Included cover to use in bad weather
Extra pocket for a 13" laptop
Exterior pockets hide the interior contents while open in public
12.13" x 9.06" x 16.93" internal dimensions
Cons:
Cannot fit laptops larger than 13"
Fitting more than 6 lenses isn't safe
Some compartments may not fit your lens. Not universal lens holders
Summary
Although the Lowepro ProTactic 350 AW isn't the most elaborate option that you can purchase from Lowepro, many photographers simply don't have the need to haul around that much equipment and will consider this to be the best camera backpack.
Holding space for up to 6 lenses, this camera backpack is lightweight, affordable, and great for photographers of any most budgets. The big brother to this bag is the Lowepro 450 AW, check out my full review.
If you are serious about protecting your expensive cameras and equipment, it starts with purchasing a great camera backpack that you can depend on.
Since most backpacks don't offer the ability to have separate adjustable containers for housing lenses, this backpack is considerably attractive for any photographer with investments to protect. If you are interested, I did a comparison review of the Lowepro 350 vs 450 here.